Spinning Division
糸の製造・販売を手掛ける紡績部門。製造する糸は、弊社オリジナル混紡糸をはじめ、カラートップ糸、杢糸、ファンシーヤーンと多岐にわたり、OEM受注による混紡糸の製造も行っています。弊社で紡ぐ糸が、糸商や、衣料メーカー、商社を通じて全国へ。それはまさに、アパレルを影で支える基礎となっていると言えるでしょう。そして、製造拠点は日本だけにとどまらず、中国へ、東南アジアへ、やがては世界へ。スタッフ全員が糸の持つ可能性を信じ、成長を続けています。
The spinning division manufactures and sells yarns. We produce our original blended yarns, color-top yarns, sewing threads, fancy yarns, and also OEM-based blended yarns. Our company's yarns are distributed to all parts of Japan through yarn dealers, clothing manufacturers, and trading companies. In other words, we support the apparel industry behind the scene. Also, our manufacturing base is not only located in Japan, but also China, Southeast Asia, and eventually to the whole world. All of our staff believe in the possibilities of yarns and keep on growing.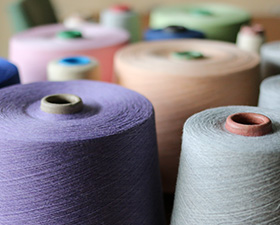 Textile Division
生地の開発から製造・販売までを行う、テキスタイル部門。弊社オリジナルの糸で編立するだけでなく、ニーズに沿うようであれば他社糸での編立も積極的に行い、多種多彩な生地を幅広く提供しています。時代の要望に柔軟に応えられるよう、生地の企画・開発も弊社オリジナルでプロデュース。できあがった生地は、生地商、衣料メーカー、アパレル、商社などへ販売しています。現在、生産は日本のみで行っていますが、海外での生産も検討中。販売先も、世界各国へと広げていきます。
The Textile Division develops, manufactures, and markets fabrics. In addition to weaving with our original yarns, we are also using other companies' yarns as long as they meet the market's needs, thus enabling us to offer a wide variety of fabrics. We design and develop our original fabrics so we can always be flexible in responding to the demands in this ever-changing era. The finished fabrics are marketed to fabric traders, clothing manufactures, apparel shops, trading companies, and others. Currently, this division only has a production site in Japan, but we are also considering to build overseas locations. We are also planning to market the products globally.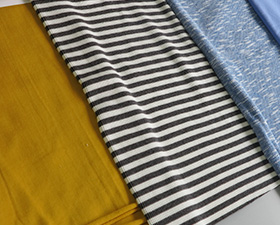 Apparel Division
衣料・服装等の製品を製造・販売する、アパレル部門。紡績やテキスタイルで培った弊社ならではのノウハウを存分に発揮し、素材の品質管理をしながら特性・特徴を充分に把握。商品化においては、その特性・特徴にフィットする製品をしっかり吟味した上で立案し、OEMへのプレゼンテーションを行っています。販売先は、アパレル、メーカー、商社など。現在の生産地は、日本、韓国、中国、タイ、フィリピンですが、今後は他の東南アジアへと広げる計画をしています。
The Apparel Division manufactures and markets various clothes and other clothing products. We fully utilize our company's know-how that has been cultivated through decades of spinning and textile manufacture, and fully understand the characteristics and features of our materials to provide the highest quality possible. For commercialization, we plan our products according to the properties and characteristics of the material and prepare the presentation to the OEM. Our market outlets include apparel companies, manufacturers, trading companies, and others. Current production sites are located in Japan, Korea, China, Thailand, and the Philippines, and we are planning to expand to other countries in Southeast Asia.